By Nathan Ottinger, Senior Vice President at Atlantic Capital Bank and GATN Board Member
As technology executives, we know better than to miss a business improvement opportunity. We've seen what happens to businesses that eschew innovation in favor of preserving existing markets and promoting older products with sentimental value.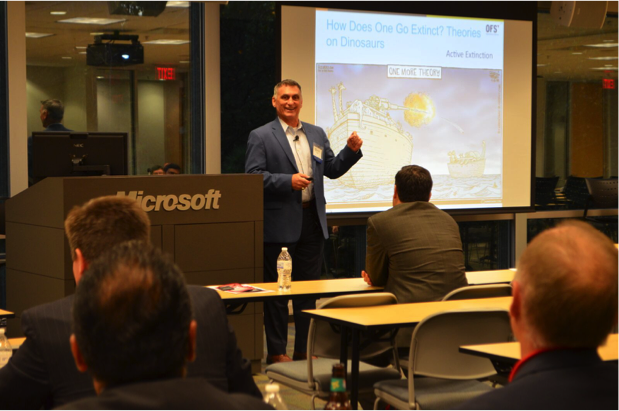 But as Rich Napoli, CEO of Object Frontier Software, pointed out at a recent GATN event, avoiding extinction in the digital age is not that simple. True, we must watch out for the type of obsolescence that stems from being too passive. But Napoli asked if we are paying enough attention to the potential for active extinction—the kind that comes from nowhere to drive your business into the ground?
Napoli talked about the fact that cloud-based applications, mobile devices, and API integration have lowered the barriers to entry to the point where active extinctions are coming fast and furious in virtually every industry segment. And product development costs are so low that you may not see your next competitor coming until it's too late.
Take Uber's disruption of the individual-ride segment, dominated for decades by taxi cabs, Napoli said. A classic case of active extinction, Uber's convenience and superior user experience (fueled by technology) are threatening taxi companies all over the US. It's important to note that consumers still want the same thing they have always wanted—to go from point A to point B in a car—but they don't hesitate to migrate to a better user experience when it's offered.
Napoli offered several steps technology executives can take now to head off extinction.
Take an outside-in approach. Begin by truly understanding what the customer is trying to accomplish. For example, airlines must realize they are not in the business of selling airline seats. Their business is helping passengers visit family, friends, and business associates, and their main purpose is serving the passenger as they complete all the tasks necessary to accomplish that journey.
Conduct product development last. Avoiding extinction means following a business-initiative decision map that looks quite different from those used in the past. Business initiatives should follow this order: customer, benefits, strategy, product.
Build a digital innovation lab. The only way to truly innovate is to build a space where creative people can get away from the day-to-day influences of the organization. Your company's innovation lab should be staffed by digital natives (i.e., Millennials) rather than digital immigrants (older generations who bring legacy biases to problem solving).
Embrace SMAC and new technology development tools. Outside development tools mean companies no longer have to build everything from scratch, greatly reducing time to market. Add the synergy created by combining social, mobile, analytics, and cloud (SMAC), and you've got what you need to avoid extinction from lack of innovation.
Napoli ended his talk by quoting Yale School of Management professor Richard Foster, who predicts that by the year 2020, three-quarters of the S&P 500 will be companies we haven't heard of yet. Clearly, Napoli said, Greater Alpharetta Tech Network companies need to arm themselves with an innovation mindset and the latest technology tools to avoid extinction.